McCoy Williams – Hall of Fame Swimmer Committed to Helping Others
Information provided by Shelly Williams Smith
"Nobody can prove one way or another why this happened.  But on that day, it didn't seem as though swimming a good race was as important as being the right race."
     -Matt Calkins, Riverside Press Enterprise, March 7, 2008
McCoy Williams was a descendant of Riverside's early pioneer families.  He was the beloved son of Trivel Williams and Bernice McCoy Williams.  McCoy's passion was swimming.  In 1954 he was Captain of Riverside Polytechnic High School swim team.  It was that same year McCoy competed and wom first place in the 50 yard free style swim in the California Interscholastic Federation (CIF) competition.  For some reason, McCoy was given a "paper medal" and a letter stating he would receive his "Medal" at a later date.
February 6, 2008, 54 years after his championship swim, Mr. Williams received his CIF Medal.  Riverside Businessman and Riverside Sport Hall of Fame President Nick Tavalione led a group to Mr. Williams home to place the coveted medal in his hands.  It was an emotional moment that Mr. Williams cherished.  The Riverside Sport Hall of Fame honored Mr. Williams with the engraved Hall of Fame medal in May 2008.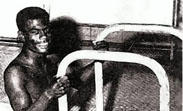 In 1957, Mr. Williams married Nora Bryant Williams.  They raised five children, and were foster parents form many years.  Mr. Williams had a career path for helping others which was demonstrated by his accomplishments.
Earned Bachelors Degree from California Baptist College.
Served as Director of Housing Services for the University of California, Riverside.
Founding member of the Riverside Opportunities Industrialization Center (OIC) where he wourked closely with the National OIC founder, Rev. Leon Sullivan.
Worked as counselor for Riverside County Juvenile Hall and later became a County probation officer.
Served on one of the first Equal Opportunity Boards and was a part of the leadership team that put Riverside on the map for being one of the first cities in the nation to implement voluntary desegregation.